I love Spain. It is my road not taken, so I go back as often as possible. The count is up to at least seven trips. I try to visit a different region every time I go because it has deserts, mountains, islands, lush green country sides, and more. This time I hit the Basque region, or Pais Vasco, and Mallorca, a large island in the Mediterranean.
Madrid – I tend to land in this city because I know and love it well. Since visiting for over 40 (yikes) years, many neighborhoods have changed. But the one thing that stays the same is the continuous party atmosphere. It rivals New York City's nightlife.
What to Do – Without a doubt, you must hit one of the exemplary art museums in this town. The Prado is one for the classics. Take a tour, live or recorded to see some of the world's best artworks. The Reina Sofia museum has got you for contemporary art. The Thyssen has become one of my favorites because of its varied collection. There is a Sorolla museum curated in his home that is next on my list.
Madrid is a great walking city. Often you will walk in one area, then approach another site, which will lead you to another neighborhood. The Plaza Mayor is a must, as well as the Parque de Retiro. The Royal Palace is beautiful, inside and out. For the first time, I took the Tranvia tram from the Parque de Oeste over to Parque de Campo. The latter is unspectacular; it's the journey that counts.
Where to eat/drink – There are SO many restaurants in Madrid, as the Madrilenos take their eating and drinking seriously. They literally dine til the wee hours of the morning.
Castillian food (Madrid is in the state of Castillo) is heavy with meats, and is usually simple but delicious. Tapas are a must. The San Miguel market is a great place to start with an upscale food court experience that lends well to the tapas dining experience. The "Cuevas", located near the Plaza Mayor are interesting, historical, literal holes in the wall where you can get simple tapas. Many are named after their specialty. Casa Botin is one of the oldest restaurants in the world, off of the Plaza Mayor. You'll get a true taste of classic Spanish, and that includes "cochinillo" (little pig) and "cordero" (lamb).
A new market, San Fernando in the fancy Salamanca region, is rumored to be worth the adventure. The Recoletos neighborhood has a ridiculous amount of bubbly, gourmet restaurants that are open until 2 am. We went to Amazonico, which, outside of a reservation error, we were lucky to enjoy the Caribean drinks, Asian food and lively atmosphere.
For a kitschy cocktail, check out Salmon Guru. No salmon here. Just crazy, yummy drinks in a small, convivial nook. I tried to sneak in at 11 pm on a Saturday night, but the line was long, and they caught on to me. (I hate lines).
Where to Stay – The Edition, Madrid.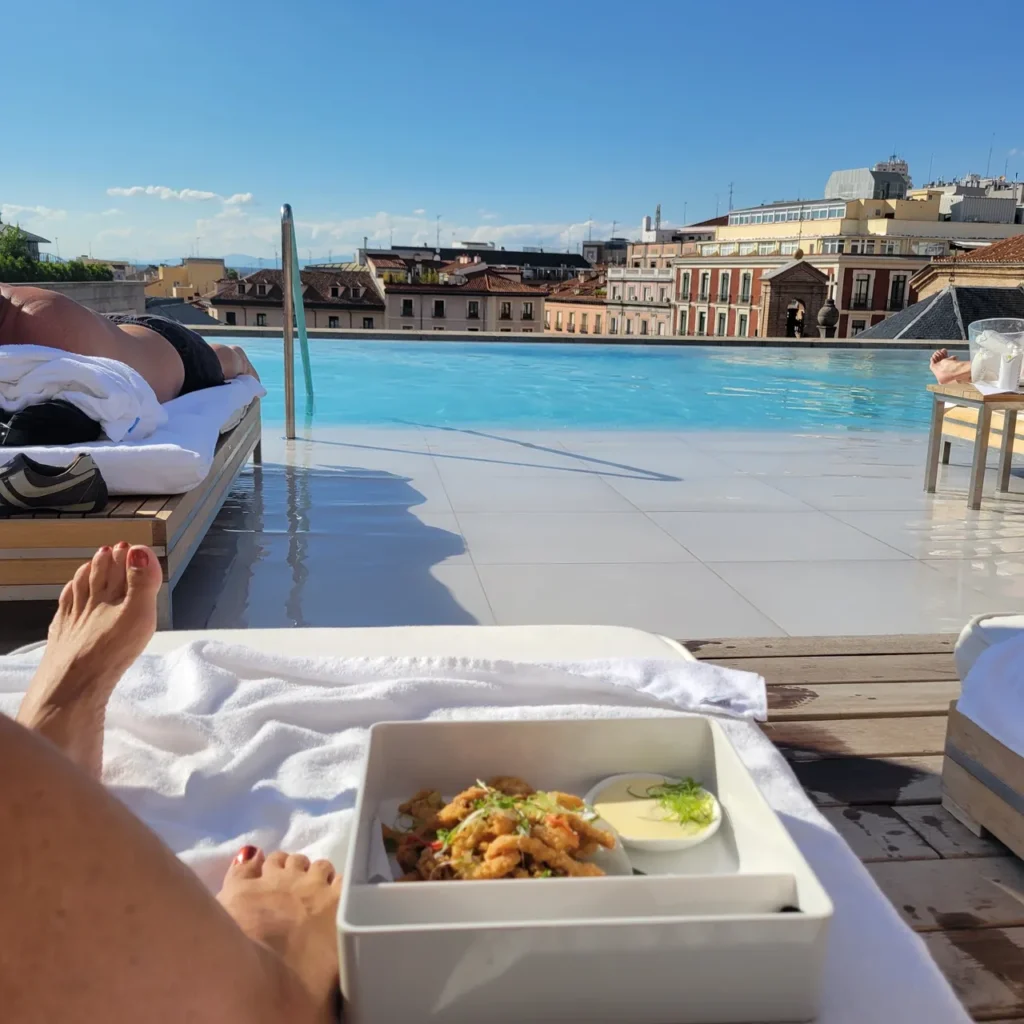 Urso Hotel
Hotel Santa Ana
ME Madrid Reina Victoria
Four Seasons
Salamanca area
La Rioja – From Madrid, we drove to La Rioja, one of Madrid's most famous wine regions.
First, let's talk about driving in Spain. If you have GPS, and have patience in the little towns where the street names will pass by you quickly, it's easy to get around. And you get to see how the flora changes in two hours. Maybe you'll bump into a herd of goats just outside of Madrid.
What to do – We were lucky to visit during the "crush" so the town was buzzing with trucks full of grapes. The vineyards may be so busy, however, it may be difficult to get tours. We visited two vineyards in 24 hours, Tritium, and. You can do more, but I feel a proper tasting requires at least two to three hours at each. Also, take a walk around any of the small towns that encompass these vineyards. They are centuries old.
Where to stay – For 24 hours, we stayed at the Hotel Marques de Riscal. If you can swing this place, do it. The exterior architecture is striking, the interior design is ultimate quality, and the restaurants can satisfy your gourmet needs. The grounds consist of vineyards, which include hiking trails.
Where to Eat – I'm going low brow and high brow, here. First, high brow. As I mentioned, the Hotel Marques de Riscal restaurant is exquisite, with a tasting or a la carte menu. Then, low brow. On our way to our wine tastings, we stopped in the tiny town of Haro for some of the best lamb ever, and then some, at Terete. A simple meal of the signature lamb, basic salad, roasted peppers, bread and wine was exquisite.
San Sebastian – I hope the next time I visit this city, it's sunny and warm, because that's all that was missing. This beautiful, belle-epoque town has gorgeous architecture, mulitple strolling neighborhoods, and the food is ridiculously amazing. If you are a foodie, you will feel like you need seven days here. We could NOT eat more than we did. Plus, the river running right through the city, and the stunning beaches are so unexpected in a lovely cosmopolitan area like this.
What to Do – Eat or bike! Walk! Shop! Surfers love San Sebastian because of its shoreline. Contact Andoni Baskme for a great biking, walking or gastronimic tour.
Where to Stay – Hotel Maria Cristina
What to Eat – This is foodie city. Everywhere you look there is another pintxos bar, restaurant, or wine bar. The first evening we ate at Rekondo. Our travel consultant recommended, and we overlooked the details of the establishment. When we received the wine list that was a 1 1/2″ book, I knew to ask the sommelier if we could see the wine cellar. He said, "after dinner". I'm so glad I insisted. One of the best wine cellars Ive ever seen, with bottles that will never be opened because of their significance. 60, 000 bottles. The food was deliciously prepared, and not a multi-course prepared meal. The ambiance is understated but beautiful. In better weather, and season, I bet it is lovely to eat outside. WOW! Thank you Chelsey for the rec.
Our favorite meal, at Arzak, a 3 Michelin restaurant, came with the biggest surprise: the meal was gifted by some special, generous friends as a birthday present. One of the tell tale signs of a fine restaurant is they make you feel at home, and accomodate to you. When I didn't like one of the courses, they insisted on substituting it with lobster. Juan Mari Arzak revolutionized the gastronomic world by changing a Sunday family dinner restaurant to one which experiments with food while, providing a warm atmosphere.
The third fantastic meal we had was Akelare, which is also a hotel. It is on the outskirts of San Sebastian, but again, if we were there during the summer we would have had beautiful views of the sea. They have TWO tasting menus you can choose from.
Finally, there are pintxos bars to discover. Pintxos, like tapas, are shared standing up in an informal setting with a beer or glass of wine. We went to two non-descript locations that were phenomenal, Zazspistm and Antonio. The old part of San Sebastian has SO many pintxos bars, inluding La Vina which serves amazing cheesecake. I now look for restaurants that make San Sebastian-style cheesecake! Look for Borda Berri, too. All the pintxos bars in the Parte Vieja are great.
San Sebastian Outskirts towards France – Let's just say it's a lot more fun visiting a town when it's not raining. We drove from San Sebastian to Biarritz but it was a washout. We drove back through St Jean de Luz, and Getaria which are lovely beach towns. Getaria has great cidra and wine. Visit these small towns which would be delightful to walk through.
Bilbao – there is an umbrella in every hotel room, and a contraption at the museum to store umbrellas. For the hour or two when it wasn't raining here, the streets were vibrant with people in bars and restaurants, drinking and eating pintxos. And – back to a downpour.
What to do: The Guggenheim Museum in Bilbao, designed by Gehry is spectacular. It is one of those structures that, as you marvel at it more, your appreciation for the architecture's lines grows.
Where to stay: Gran Hotel Domine or somewhere close to the musem or Plaza Mayor.
Mallorca – I am a sucker for any seaside location. Also, I stopped posting food pictures, because the San Sebastian food satiated us. All I cared about at a tasting menu dinner was when the cheese cart was arriving. Ira wanted to know where to get good pizza. Is it OK to feed a cat at your restaurant? I'm in.
Mallorca grows on you. Most of Mallorca's coast is daunting cliffs, dotted by beautiful coves. The more you delve into local spots or smaller villages, the more vibrant it becomes. Take a boat ride, too, if you can. The warm weather helps too.
What to Do – Shockingly, we visited one church, and I'm glad it was the Catedral-Basílica de Santa María in Palma. For an island, this building was unexpectedly grand, especially since it was originally completed in 1630. Gaudi assisted in updating its internal architecture in the early 1900s. There are beautiful Belle Epoque buildings in Palma, and check out the Mercado de Olivar. You'll find authentic fish, pork and vegetable sellers.
We visited the Mercado with Deborah from Deborah's Culinary Island Atelier. She taught us not only how to cook some authentic Mallorcan dishes, but also how unique the Mallorcan cuisine is, and how the island's diet is locally sourced.
Do a boat ride. This island has magnificent waters, with hidden enclaves among high cliffs. Try NexHolidays or Cap Rocat's concierge services.
Where to Stay – Staying in Palma will give you a more metropolitan experience than staying seaside. There are many beach towns in Mallorca, and you will be removed from Palma, but will get a quiet, informal, seaside experience. We stayed at the Cap Rocat, near Palma, which is jarringly quiet at first, then pleasantly peaceful. There are yoga classes in the morning, privacy at the pool, and beautiful walks around the location. The seaside restaurant is enchanting, while the formal, central dining area is excellent (this is where the cheese cart request played out after so many tasting menus). Even if you don't stay here, make a reservation at the Sea Club.
Where to Eat – There are many fine dining locations in Palma. Then there are the sweet, casual seafood eateries spotted on the Mediteranean shores. Quadrat is tucked away in the downtown streets of Mallorca in the beautiful Hotel Sant Francesc. But you MUST make a reservation at Ca's Patro March in Cala Deia. You can hike down or up from lunch, or find the treacherous road to park closer. This is an informal restaurant with enchanting views, great seafood, and kitchen cats. Villa Deia is a sweet town. We got lost on our hike back up, but we walked off our lunch!